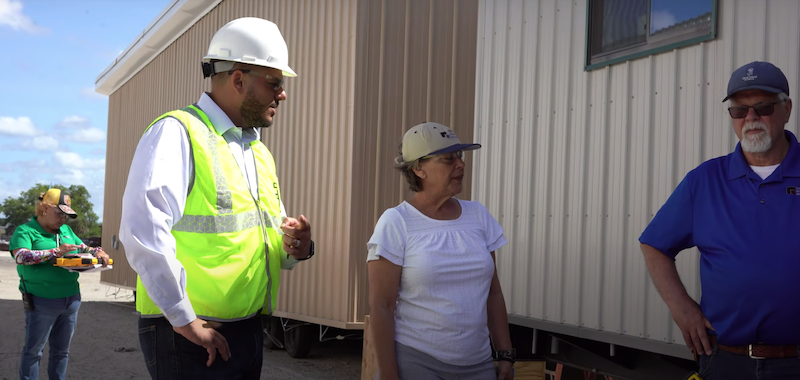 At Fabricon Modular, we recognize that modular construction has come a long way over the past several years. As modular construction becomes increasingly popular, more people are becoming aware of its many advantages. 
In this article, we focus on some of the main benefits of modular offices.
TABLE OF CONTENTS:
Breaking Down the Versatility of A Modular Office
Fabricon Modular's Stock Options
Modular Offices: Saving You Money With Fabricon Modular
More Time Saved With Fabricon Modular
A Building Made of High-Quality Materials
Streamline the Way You Work With a Modular Office
Breaking Down the Versatility of A Modular Office
Many people choose modular buildings out of a desire for greater versatility. Modular offices are custom-tailored to meet your unique preferences. During the construction process, we take your specific space requirements into account to ensure that the office accommodates your needs. If you have multiple uses in mind for your modular building, it can be designed as a multipurpose building as well.
Fabricon Modular's Stock Options:
Fabricon Modular also offers several stock model options that have been carefully pre-engineered and specifically designed to provide you a convenient solution for nearly every situation. They are as follows:
FM1256

(12' x 56')

FM2456

(24' x 56')

FM3656

(36' x 56')

FM4856

(48' x 56')

FM6056

(60' x 56')

Every Fabricon Modular Mobile Office meets state building codes needed for local permitting and is built with top choice materials for optimum performance and integrity. 
Save Money With Fabricon Modular Mobile Offices:
Opting for a mobile office over a permanent office space simply makes more sense financially. Not only is building a permanent office a costly process, but it can also be expensive to maintain. Modular offices, on the other hand, are known for being a much more affordable option overall. This allows you to save a significant amount of money and use it towards improving other areas of your business.
Flexible lease and purchase options mean procuring your next Fabricon Modular Mobile Office is easy. All Mobile Office solutions are also available through our Cooperative Purchasing Agreements at the state and national level for eligible entities.
More Time Saved With Fabricon Modular:
When you decide that you need more space for an on-site office, you'll normally need to dedicate a lot of time to the building process. However, purchasing a mobile office helps you cut down on loads of time. Modular offices are specifically designed for situations where space is needed quickly. Whether you're looking to relocate temporarily or over a longer period, mobile buildings can be relocated from one project to the next without any hassle.
A Building Made of High-Quality Materials:
Choosing a modular building doesn't have to mean sacrificing quality for convenience. At Fabricon Modular, we carefully select top-quality materials that ensure optimal performance and integrity when building our mobile offices. In addition, you can be confident that we'll consider all of your state building codes that are required for local permitting purposes.
Not only will you have a highly convenient space for you to take care of your construction needs, but you'll also have the opportunity to benefit from a well-made, durable and reliable office that can support all kinds of work purposes.
Streamline the Way You Work With a Modular Office
If you're ready to take your workspace to the next level, reach out to Fabricon Modular today. Our trusted, high-quality mobile office trailers are carefully designed with your unique needs and goals in mind. No matter what you aim to use your office for, we can ensure that your workspace reaches its full potential with help from our top-tier services.